If you're part of a modern company, it's highly likely that you've heard about HubSpot CRM. Currently, in the business world, customer management and the automation of activities, from lead generation to after-sales service, are essential for achieving success, and HubSpot has become an indispensable platform to achieve it.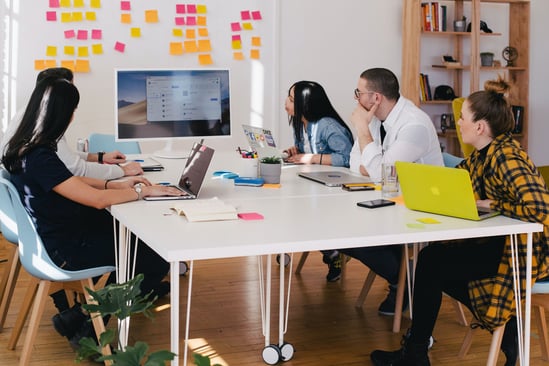 In this article, we will explore why this CRM system has become such an important tool and how it can help you and your company achieve its goals.
What is HubSpot CRM?
Let's start with the basics: HubSpot is an intuitive and user-friendly CRM system that allows you to organize and track all interactions with your customers and prospects in one place. This powerful tool is designed to simplify and optimize all of your company's interactions by storing and organizing contact information.
HubSpot goes beyond any other CRM system as it also offers integrated marketing and sales tools on a single platform, making it easy to create and execute comprehensive strategies for attracting, nurturing, and converting leads into satisfied customers.
But why choose HubSpot?
Certainly, in the market, there are more and more platforms that can help your company grow, and most of them are likely very valuable. However, there are certain features that make HubSpot the best ally for growth in the business world.
Intuitive Experience
One of HubSpot's main features is its ease of use because in an increasingly digitalized world, learning to use a new tool can be a significant hurdle. This CRM platform has been designed with user convenience in mind, whether you're a technology expert or a novice. HubSpot offers an intuitive interface that allows you to implement your marketing and sales strategy without difficulties.
Read more ➡️ CRM: It's Not as Difficult as You Think
In addition to its user-friendly design, HubSpot provides a wealth of training resources and support to ensure that users get the most out of the platform. Tutorials, a knowledge base, and an online community are available to help you address any questions or challenges you may encounter.
Valuable Tools
HubSpot is not just a CRM; it's a complete platform to accompany prospects throughout their journey, from visiting your website to becoming a customer. This means you get a variety of different functionalities in one place. Some of the most notable ones include:
Contact Management: HubSpot allows you to store, organize, and manage your contacts effectively, simplifying tracking and customer segmentation.
Email Marketing: create and send effective email campaigns using customizable templates and track open and click-through rates to measure email performance.
Blogs and Content: Publish relevant and engaging content to attract your audience, using various tools for SEO optimization.
Social Media Advertising: Manage and track your social media advertising campaigns directly from HubSpot.
Sales Automation: Track customer interactions, automate follow-up tasks, and manage your sales funnel effectively.
Live Chat and Chatbots: Facilitate real-time communication with your website visitors through live chat and customizable chatbots.
Customer Service Automation: Use automated workflows to provide efficient and personalized customer service.
Analytics and Reporting: Access detailed reports that help you measure the performance of your marketing and sales campaigns to adjust your strategies.
Integrations: HubSpot integrates with a wide variety of other tools and platforms, allowing you to sync data and improve efficiency in all your operations.
Mobile CRM: Access your CRM and data from anywhere through the HubSpot mobile app.
Benefits for Your Business
By incorporating HubSpot into your company, you can expect several benefits that will boost your business success in various ways:
a. Increased Efficiency
Task automation is key to unleashing your team's potential. With HubSpot, you can significantly reduce manual workload, allowing your staff to focus on strategic activities that truly matter. Instead of wasting time on repetitive tasks, your personnel can devote themselves to creativity, innovation, and decision-making that drives growth.
b. Improved Customer Relationships
HubSpot provides a 360-degree view of your customers, helping you understand their needs and preferences more deeply. This enables you to offer more personalized and tailored service to each customer, enhancing satisfaction and strengthening your business reputation.
c. Sustainable Growth
Your company's growth is crucial, and HubSpot is a powerful tool to achieve it. Its tools allow you to effectively attract new customers and, equally importantly, retain them. By maintaining a constant relationship with your audience and providing them with valuable content, you will convert prospects into loyal customers and brand ambassadors.

What Modules Does the Platform Include?
HubSpot offers various modules and licenses to cater to the diverse needs of businesses, but it's important to note that even its free version is extremely useful. Each of these modules is tailored to a crucial part of a business's lifecycle and offers specific tools to maximize efficiency and effectiveness.
1. Sales Hub
Designed to help sales teams manage and close deals more efficiently. It offers tools for contact tracking, sales automation, meeting scheduling, and email tracking.
2. Marketing Hub
Ideal for lead generation and marketing automation. It provides tools for content creation, email marketing, social media management, campaign analysis, and SEO optimization.
3. Service Hub
Focuses on providing exceptional customer support. It includes tools for ticket management, customer service automation, knowledge base creation, and multichannel communication with customers.
4. Operations Hub
Focuses on optimizing business operations. It offers tools for data management, workflow automation, data synchronization, and report customization.
5. Content Management System (CMS)
Allows robust content management to create, manage, and optimize websites and blogs. It features content customization, online editing, landing page creation, and digital asset management.
As you can see, HubSpot is a solution that meets the needs of any company, adapting to its size or growth stage through a wide range of tools and subscription levels. Whether you're looking to improve operational efficiency, strengthen customer relationships, or drive your company's growth, HubSpot has the answers you need to take your business to the next level.
Contact Us
We'd Love To Hear From You!
If you have any questions or comments about this article or are interested in learning more about our business consulting services, we invite you to contact us. We'll be happy to assist you.
---
References:
Photo by Jason Goodman on Unsplash