We know that the sales process is becoming more complex every year. Remote work, the dynamism of the media and the growth of competition have put unparalleled pressure on our teams. Forty percent of salespeople report that it's more difficult to even get a response, let alone prospect, track sales leads or close deals.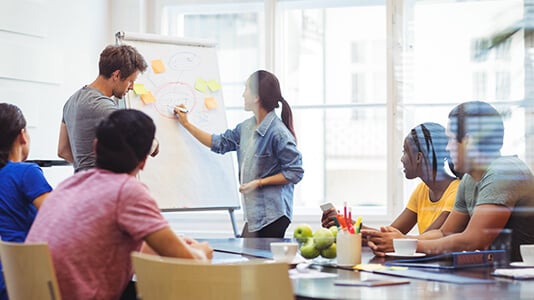 Consumers are more demanding and more informed about the various options that exist in the market, therefore, it is becoming easier for competitors to copy what your company also offers. But then, how can we boost sales?
Best contact management software tools
At TIS Consulting Group we do this through HubSpot's inbound marketing and CRM, a platform that has all the tools and integrations your company needs for marketing, sales and customer service, allowing you to achieve your goals at each and every stage of your company's customer journey.

We base our sales consulting services on the following CRM tools:
Attract more and better prospects (Marketing)

Speed up and boost your sales (Sales)

Increase and measure customer satisfaction (Service)
We will explain below what each one is about.
1. Attract more and better prospects
With the Marketing Hub, a marketing CRM, we can help your company attract more and better prospects with truly valuable content; interact with them in the right ways; and deliver an exceptional experience to close more sales. Basically turn strangers into customers and then promoters of your company.

With this tool you will be able to store, analyze and visualize in one place all the information your marketing team needs. In addition, you will be able to monitor the prospects that visit your website and personalize the interaction you have with them automatically, which gives you the opportunity to increase your conversion rate.
2. Speed up and boost your sales
The sales team must fulfill an essential function: to sell!
To help you accelerate and boost your sales we rely on Sales Hub, HubSpot's sales CRM, a tool that allows us to integrate and automate your entire sales process in one place, so you can focus on what really matters to salespeople: selling!

We take care of fully understanding your sales process, we look for ways to optimize and automate it, and then configure one of the best CRM for small business to fully adapt to it and ensure its success in your team.
3. Increase and measure customer satisfaction
Finally, with the help of the Service Hub, we help you strengthen the relationship you have with existing customers and make communication more efficient.

With this tool you can manage all customer interactions in a single system and improve satisfaction rates. Integrate, manage and connect with your customers through different means such as email, live chat, social networks and calls to give them the help they need, when they need it.
Conclusions
Now that you know the 3 sales management CRM tools that TIS Consulting Group can offer you, it's time for you to analyze your company's current situation, your areas of improvement and your main goals, to determine whether or not HubSpot's inbound tools are the right solutions for you.
Each one of these CRM tools are powerful on their own, but when combined with each other they are even more so. Which one caught your attention the most?
Contact Us
We'd Love To Hear From You!
If you have any questions or comments about this article or are interested in learning more about our business consulting services, we invite you to contact us. We'll be happy to assist you.
---
References:
Photo by Jason Goodman on Unsplash