Choosing the right CRM is a very important task, as effective management of sales, marketing, and customer service is critical to the success of any business. But with so many options on the market, it can be difficult to determine which tool is the most suitable for your company. Among the most popular options are HubSpot and Salesforce, two of the most powerful tools in the market.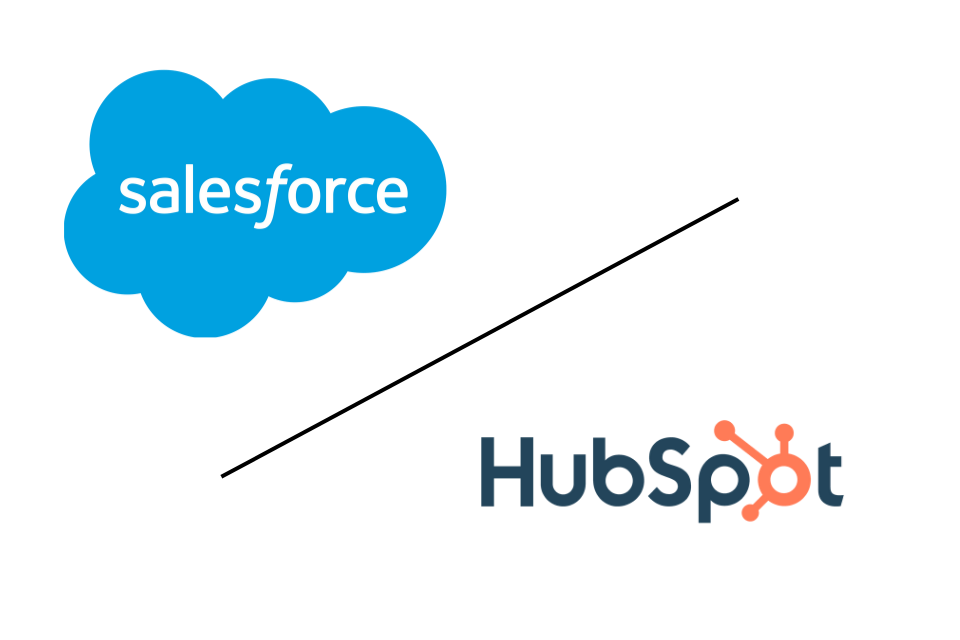 Both tools offer a wide range of functionalities, from marketing automation and contact management to campaign customization and detailed analytics. However, although they have similar goals, each one focuses on different areas and has its own strengths and weaknesses, which make them suitable for different types of companies.
If you're deciding between these two tools, keep reading. In this article, we'll delve into the key features of HubSpot and Salesforce, compare their differences, and help you determine which one may be the best option for you.
HubSpot CRM vs. Salesforce CRM
HubSpot primarily focuses on helping small and medium-sized businesses attract, engage, and delight their customers through inbound marketing. It's a cloud-based tool that grows as your business grows, with the ability to acquire different tools depending on what you need at the time. Its platform includes tools for all your teams, such as marketing automation, CRM, sales, and customer service to help businesses create an effective strategy.
On the other hand, Salesforce is a broader cloud-based tool that focuses on large enterprises and is primarily used for sales management and automation of complex sales processes. Salesforce is highly customizable and scalable, making it ideal for large and complex companies that need a customized tool to manage their sales and customer relationships.
What's the Best Option for Your Business?
To help you decide which of these two platforms is better for your business, we need to analyze both tools. Below, we present their main differences.
1. Learning Curve
HubSpot:
The HubSpot platform was designed from scratch with a single codebase, allowing all products and functionalities to be fully integrated and work in a unified manner.
This integration strategy has been very effective in simplifying the adoption and use of the software, as users can learn and use multiple functionalities within the same platform without having to worry about integrating multiple tools. Additionally, the HubSpot platform is highly scalable, meaning that companies can add additional functionalities as they grow and evolve

Salesforce:
In contrast, Salesforce is a platform created through acquisitions and partnerships with other software providers, which has resulted in a variety of products and functionalities that are not always fully integrated with each other. This can make the adoption and use of Salesforce software more complex and require more time and resources for integration and customization.
2. Technical Support
HubSpot:
HubSpot has exceptional support teams that are available to all users at no additional cost. Users of the Pro and Enterprise packages have free access to phone and email support. Additionally, HubSpot Academy is a world-class online platform that provides free resources to help customers improve their skills and knowledge.

Salesforce:
On the other hand, Salesforce offers premium 24/7 technical support for 20% of the net price specified in the contract. However, access to additional features comes at an additional cost of 30% of the net price of the contract. This percentage-based pricing model means that the total cost will increase as users or add-ons are added, without a corresponding increase in the level of support.
3. Apps marketplace
HubSpot:
HubSpot's Marketplace offers over 500 solutions, including both native and third-party applications. These solutions are rated based on their potential, quality, and ease of installation, configuration, and use, regardless of their origin.

Salesforce:
Salesforce AppExchange is the most comprehensive CRM application marketplace, with over 3,400 options that cater to various needs. It is the quickest and easiest way to expand Salesforce's capabilities.
4. Growth and customization
HubSpot:
You can customize the HubSpot platform according to the needs of your business and without adding complexity, you can start using all the features immediately, instead of relying on months of development.

Salesforce:
Salesforce can be customized to fit the needs of any business, even for complex organizations, but if the software is not well-integrated, it can slow down work when adding users, data, and processes. Customizing Salesforce can help with forecasting and report creation, but this may require more time and resources from the system administrator and developers, which can be challenging for businesses in a later stage of software adoption.
5. Pricing
HubSpot:
The recommended price of HubSpot includes all the features you need, so you will only pay for additional users who generate revenue. It also has free plans that can be used by team members who only need access to certain information but do not need to use any of the sales/marketing tools.
Salesforce:
Salesforce charges per user and requires paid add-ons for essential functions. Generally, this tool tends to be the most expensive option.

Conclusion: Which one is better?
It all depends on what your company needs. In general, Salesforce offers a wide range of features that make it one of the leading CRMs. However, due to its complex infrastructure and relatively high price, Salesforce is not for everyone. The platform is best suited for medium and large companies that need a powerful tool to manage sales opportunities and analyze business opportunities.
HubSpot is an easy-to-use CRM that offers a free plan with limited but functional features, making it affordable even for growing businesses and startups. Other plans include features that can handle most of your company's needs. This is an ideal solution for small and medium-sized businesses, but there are also many large companies that use it.
If you are still undecided about which tool to choose, at TIS Consulting we have developed the following ebook (available in English and Spanish) "The Ultimate Buyer's Guide to Choosing the Right CRM", download it for free!
Contact Us
We'd Love To Hear From You!
If you have any questions or comments about this article or are interested in learning more about our business consulting services, we invite you to contact us. We'll be happy to assist you.
---
References:
Photo by Mikael Blomkvist from Pexels: https://www.pexels.com/photo/simple-workspace-at-home-6476584/