HubSpot is a CRM platform that focuses on helping businesses attract, engage, and delight their customers through the use of tools that allow tasks to be completed more efficiently and effectively.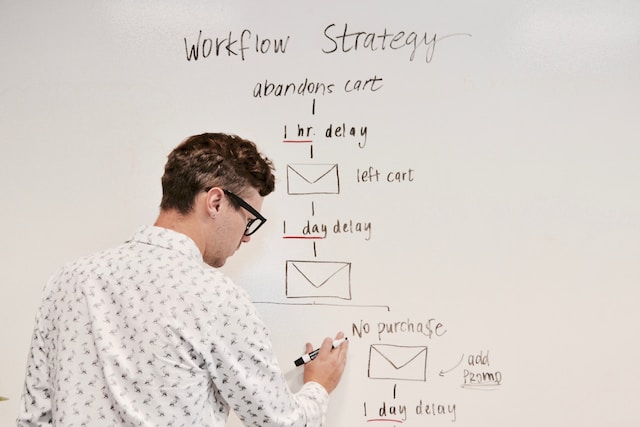 One of the most useful features of the platform is its ability to create automated workflows, which simplify the daily work of marketing, sales, and operations teams, improving the efficiency and productivity of their processes.
But what do we mean when we talk about workflows? HubSpot workflows are a series of automated actions that are triggered when a certain condition is met. For example, a workflow can be created to send a welcome email to a new customer or to send a follow-up reminder to a customer who has not responded. This way, tasks that were previously performed by a person can now be scheduled in advance and carried out automatically.
This functionality offers multiple benefits that impact both a company's internal processes and their relationship with their customers. Some of the main advantages of using workflows are:
Saves time and resources: marketing, sales, and operations teams can automate repetitive and administrative tasks, allowing them to dedicate more time to higher-value tasks such as content creation and customer interaction. Automation also reduces human errors and minimizes the need to perform tasks manually.

Improves the customer experience: automation allows companies to interact with customers in a more personalized way, ensuring that the information sent to the customer is truly relevant. To achieve this, teams can segment customers based on their behavior, preferences, or stage of purchase, sending content and messages that meet their specific needs.

Increases lead generation: HubSpot workflows can help companies generate more leads by optimizing demand generation processes. For example, workflows can be created to automatically respond to potential customer inquiries, which can increase the likelihood of conversion.

Improves collaboration between teams: teams can coordinate their work and share information in real-time without the need to manually send emails or schedule meetings.

Improves tracking and measurement of results: HubSpot automation allows teams to establish clear goals for their strategies and measure their performance through the visibility and transparency it offers. This way, they can identify which tactics are working and which ones need adjustments to achieve more effective results.
As you can see, using HubSpot's workflow automation can be the boost your company needs to improve its efficiency and productivity. You just need to define what you want to achieve and set the conditions that will determine when the automation should be triggered. If you have not yet used this functionality, we invite you to try it out. We are confident that the results may surprise you.
Contact Us
We'd Love To Hear From You!
Ready to streamline your marketing and sales processes with HubSpot workflows? Contact us for more information.
---
References:
Photo by Campaign Creators from Unsplash